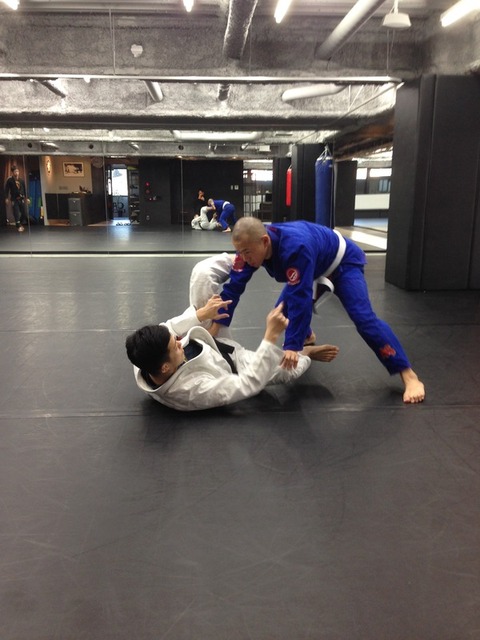 Our staff members teach private lessons practically every day, it seems. We asked one of our clients, a self-employed individual living in the Shibuya ward of Tokyo, to share some thoughts with us on these lessons...
"I have taken private lessons from Ishikawa-sensei on Tuesdays since my third week after joining Carpe Diem BJJ at the Hiroo dojo."
"At first I was constantly uneasy in training as I had no idea what to do no matter what my position was. I knew if I continued going to regular classes, little by little I would understand how to move and get better at BJJ, but I wanted a deeper understanding fast, so I asked for private lessons."
"For these hour-long sessions, Ishikawa-sensei creates a training plan suited specifically to my needs, and I can ask questions without worrying about what other people might think and continually drill techniques over and over again."
"Since I had only just begun training, Ishikawa-sensei started simple, eventually tying together what I had learned over several sessions, progressing to more complex moves in the next week, dealing with defensive maneuvers the next after that, etc. After only a few sessions I felt like an entirely different person."
"During sparring sessions in our regular classes, I applied what I learned, trying out different maneuvers, and my initial fear dissipated."
"Private lessons are an opportunity to understand each instructor's personality a little deeper, which I find interesting. I would like to know all the instructors better, and to that end I seek private lessons with each one. I enjoy the opportunity to soak up each instructor's strengths little by little as well as the simple bits of conversation we have during each lesson."
"Since last month, I have sought private lessons on Fridays from Tamaki-sensei as well."
"Private lessons are also an opportunity to learn more about what drove a particular instructor to learn BJJ or what their current thinking is, in addition to more intriguing facets of their lives. This colors the way I take their training in our regular classes as well."
"By combining regular classes and private lessons, I expect to more fully enjoy my life as a BJJ practitioner."
http://carpediembjj.blog.jp/archives/1002810.html
Details on our private lesson plans are available at the link above.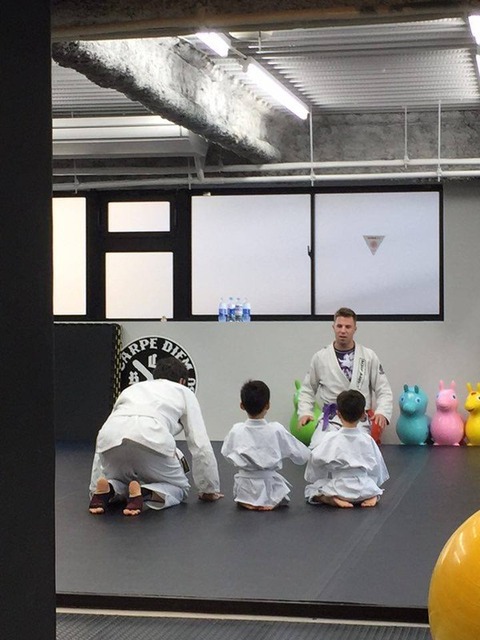 We also offer group lessons for two or more persons. Thomas (pictured here) gives private lessons to father/child groups and we offer other combination formats as well, including BJJ lessons with English instruction.
Private lessons are advantageous for people in a variety of more unique situations. For example, celebrities can train with minimal unwanted exposure to the public, or persons with physical or mental challenges that prevent them from easily keeping up with standard lessons.
Our flexible staff is standing by and ready to do whatever they can to meet the needs of our clients. We invite all interested parties to contact us here:
http://carpediembjj.com/contact/index.php