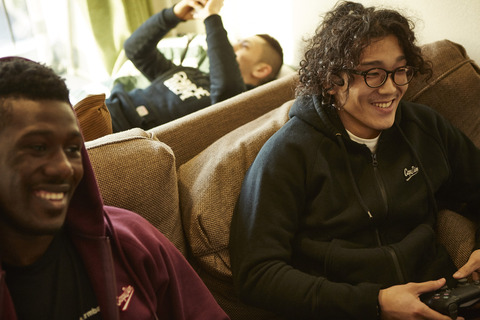 We have added a new item to the Carpe Diem line of apparel, the "MW for CARPE DIEM Zip-Up Parka."
As many of our readers are already aware,
Bedwin & The Heartbreakers
founder and Carpe Diem BJJ purple belt
Masafumi Watanabe
has been designing branded "MW" merchandise for Shoyoroll, Tommy Hilfiger, Reef, etc in recent years.
This time, he's made an MW Carpe Diem zip-up parka for us. Made with a looser fit than last year's hoodies, the length is a little shorter. There is more space where the sleeves join the body in this model as well, so interested buyers with big shoulders, pecs, etc need not worry about too tight a fit or binding under the arm.
These parkas are made from Japanese materials, feature superior insulation with a padded lining, and are soft but not bulky. Wearing one with a matching jacket would be one good option.
The Carpe Diem logo in felt on the chest lends the parka a sporty feel, and on the left arm is a small version of our round logo. The ribbed cuffs can be rolled up to for a shorter fit or left down for longer sleeves. The cuffs also have thumb holes for covering the hands on a cold day when riding a bike, for example.
The parkas come in black and burgundy, and supply of the latter is extremely limited.
The parkas will go on sale at 0900 JST on 7 January (Sat) at our Hiroo dojo and of course are not limited to our members.
The parkas are priced at ¥19,800 plus tax, but Carpe Diem members can take advantage of a discounted price of ¥17,800 plus tax.
Sizes are small, medium, large, extra-large, and extra-extra-large, with the small size approximating a typical "ladies size." Interested buyers can try on the parkas at the dojo to confirm sizing.
Sales on 7 January will be cash-only and there are no per-customer volume limits. If the parkas don't sell out in short order, they will be available later on our
online store
for the regular list price.
As always, we thank you for your kind support and interest in Carpe Diem BJJ.